Swipe To The Curacao North Sea Jazz Festival
Written by laserteam on October 24, 2019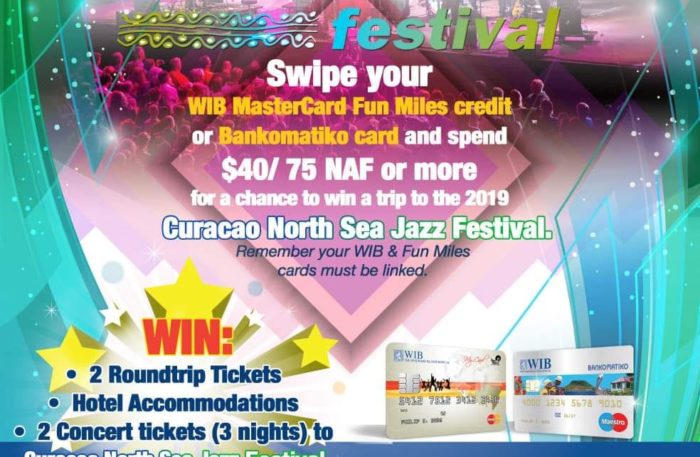 Laser 101 is giving you and a lucky guest a chance to fly to Curacao for the 2019 North Sea Jazz Festival!
It's easy! SWIPE your WIB MasterCard Fun Miles credit card or Bankomatiko card (for $40.00 or more) for a chance to WIN a trip to Curacao North Sea Jazz Festival featuring megastars like Juan Luis Guerra, Maroon 5, Pitbull, Mariah Carey, Maxwell, Black Eyed Peas and more.
Happy Swiping! The winner will be announced on August 23.
Terms & Conditions
Contest open only to St. Maarten residents who are 21 years or older and residing on the island of St. Maarten at the time of entry. Further, entrants must have a valid passport and be able to travel between August 30th – September 3rd, 2019. Extra person that will be traveling with winner must also have the aforementioned permissions.Laser 101 reserves the right to disqualify the contestant in its sole discretion.Employees and immediate family members of Laser 101, WIB, Fun Miles and Philipsburg Broadcasting are ineligible of taking part and/or winning the contest.Prize is non-transferable. If winner is unable to collect prize, it will be awarded to another contestant that has been randomly selected as a backup.
Laser 101 undertakes no liability or responsibility, and makes no warranties, express or implied, with respect to the performance of the prize(s) awarded, for any failure to perform or negligent performance of any service provider, or for any other risk, incident or damage, direct or indirect, relating to or arising out of the contest, including (but not limited to) cancellations, postponements, delays or other scheduling changes; missed events or connections or inability of winner to attend; and accident, injury, damage or expense arising from or occurring during the use of the prize, or travel to/from or attendance at any event relating to the contest, by the winner and/or winner's guest(s). Laser 101 is not responsible for damage to a prize or loss of a prize after the prize has been claimed. Winners must inspect their prizes before leaving the station. Laser 101 is not responsible for technical, hardware or software failure or malfunctions, lost or unavailable network or other telecommunications connections, or lost, late, damaged, illegible, inaccurate, incomplete, garbled, disconnected, or delayed contest entries or communications, whether caused by the sender or by any of the equipment or programming associated with or used in this contest, or by any human error which may occur in the execution of this contest.
---