Do you want to win an all-expense-paid trip to St.Kitts for the St.Kitts Music Festival on June 23rd to see musical artists such as Ashanti, Sean Paul, Popcaan, Bunji Garlin, and more?
Then all you have to do is visit our website every day to answer our daily questions.
You have to get all the answers correct then you will be entered into the contest and a lucky winner will be chosen to win a trip for two to the St.Kitts Music Festival!
*Disclaimer: Please refresh the page if the question of the day does not pop up at 8 AM and please read all official rules and regulations!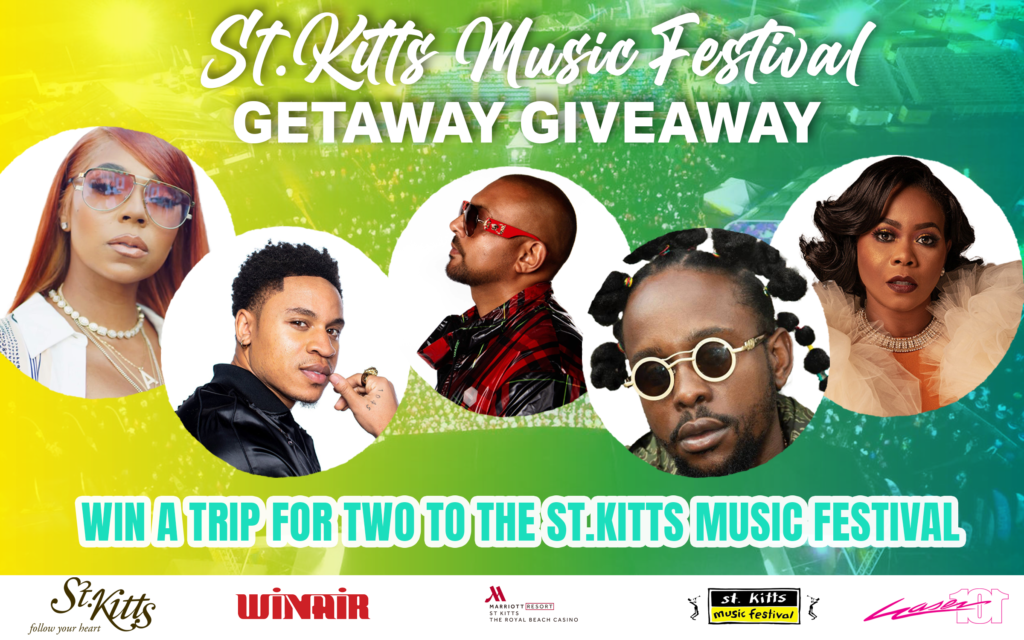 THIS CONTEST IS NOW CLOSED!
Tune in to the Friday Frukus to find out who will be the lucky winner.
Please read all official rules and regulations!
Official Rules
Terms & Conditions
NO PURCHASE OR PAYMENT OF ANY KIND IS NECESSARY TO ENTER OR WIN
Contest is open only to St. Maarten residents of all ages and residing on the island of St. Maarten at the time of entry.
Laser 101 and Philipsburg Broadcasting reserves the right to disqualify the contestant in its sole discretion.
Employees and immediate family members of Laser 101 and Philipsburg Broadcasting are ineligible of taking part and/or winning the contest.
Prize is non-transferable. If winner is unable to collect prize, it will be awarded to another contestant that has been randomly selected as a backup.

Laser 101 undertakes no liability or responsibility, and makes no warranties, express or implied, with respect to the performance of the prize(s) awarded, for any failure to perform or negligent performance of any service provider, or for any other risk, incident or damage, direct or indirect, relating to or arising out of the contest, including (but not limited to) cancellations, postponements, delays or other scheduling changes; missed events or connections or inability of winner to attend; and accident, injury, damage or expense arising from or occurring during the use of the prize, or travel to/from or attendance at any event relating to the contest, by the winner and/or winner's guest(s). Laser 101 is not responsible for damage to a prize or loss of a prize after the prize has been claimed. Winners must inspect their prizes before leaving the station. Laser 101 is not responsible for technical, hardware or software failure or malfunctions, lost or unavailable network or other telecommunications connections, or lost, late, damaged, illegible, inaccurate, incomplete, garbled, disconnected, or delayed contest entries or communications, whether caused by the sender or by any of the equipment or programming associated with or used in this contest, or by any human error which may occur in the execution of this contest.
Requirements to travel to St.Kitts
Please note that only fully vaccinated travelers with state-approved vaccines are permitted to enter the Federation of St. Kitts and Nevis. The approved vaccines are Pfizer/BioNTech, Johnson and Johnson, Oxford/AstraZenca, Moderna, Sinovac and Sinopharm. Approved vaccine types that are mixed are also accepted for entry.
A traveler is considered fully vaccinated after 14 days of their second dose of a 2 dose vaccine series or 14 days after having taken a single dose vaccine.
All arrivals, including children must submit proof of a negative nasopharyngeal RT-PCR test result taken within three days of your arrival or a negative antigen test taken 1 day prior to your arrival.
Travelers must complete and submit their travel entry form via www.knatravelform.kn.
Travel forms can be submitted in advance once travelers answer all health questions, when asked if you are in possession of a RT-PCR or Antigen test select NO. You will then continue to complete your form. Upon submission, please check your inbox or junk mail folder for your confirmation email.
If at any time you are unable to submit or receive an "invalid access" error, please check the size of your uploads. If they are too huge you won't be able to submit your form.
Your confirmation email will contain a receipt number which starts with KN. You will need your receipt number to regain access to your form so that you may edit your form once you are in possession of your negative RT-PCR or Antigen test. You will then go back to the test question and select yes to upload your negative COVID-19 Test.
Upon uploading your test, please inform me of your submission and your KN number.
---