Joe Rogan Opens His Anti-Cancel Culture Club in Austin
Written by laserteam on March 8, 2023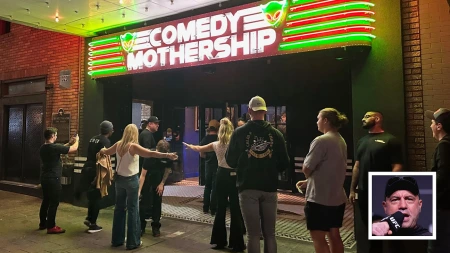 (Hollywood Reporter) – Joe Rogan's new comedy club mecca. On Austin's historic Sixth Street, Comedy Motherland enjoyed its opening night after two-and-a-half years of development.
Comedy Mothership is the comedian and podcaster's effort to launch what he's described as an ideal venue for comics and an effort to terraform the Texas capitol into a major live comedy hub. When tickets for the opening week of shows went on sale (for a surprisingly reasonable $40 per person), they sold out within minutes. Tickets are being re-sold online for $500.
The venue's theme is aliens meets art deco (the latter, a respectful nod to the remodeled theater's century-long history). There's a UFO above the door in the lobby, warnings that "Hecklers Will Be Alienated" and a Stargate-like arch over the main stage. The theater is awash in black and purple. By Austin comedy standards, it's easily the coolest-looking venue in town.
---