Sheryl Lee Ralph Thought Jimmy Kimmel's Skit At Emmys Was Disrespectful To Quinta Brunson
Written by laserteam on September 15, 2022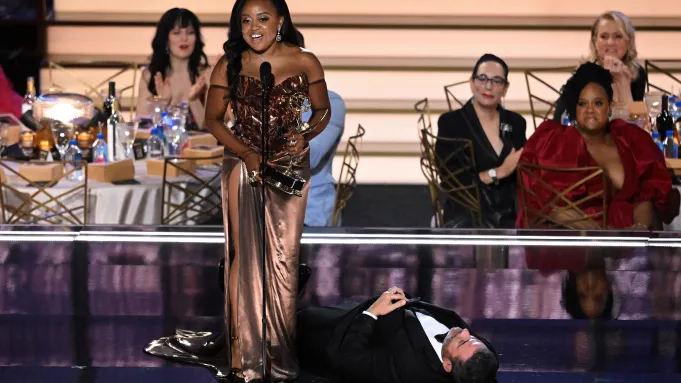 (Deadline) – At least one member of Abbott Elementary is coming to the defense of her boss after that odd moment during the Emmys Monday when Jimmy Kimmel played dead on stage as Quinta Brunson took the stage to accept her prize.
At ABC's TCA day Wednesday, the actors were asked about how it played in the room when Brunson, the EP and star of the ABC comedy, accepted her first Emmy with Kimmel lying motionless below her. Co-star Lisa Ann Walter thought it "played funny," but Ralph, who won an Emmy of her own Monday, was having none of it.
"I was absolutely confused," she told reporters. "I didn't know what was going on. I wish that man would just get up off the ground. Then I realized it was Jimmy Kimmel. Ooh, the disrespect, Jimmy! But that's just me. I told him, too, to his face. He understood."
Jimmy Kimmel used his late night show Wednesday to apologize to Abbott Elementary creator and star Quinta Brunson for the "dumb comedy bit" he staged at Monday's Emmys.
Brunson began her appearance on Jimmy Kimmel Live by interrupting the late night star's monologue to show off her first Emmy. She had her own bit to perform: After telling Kimmel that his interruption on Monday cost her the full 45-second length of her acceptance, he gave her the chance to share it again.
---